Face Masks / Respirators
Surgical Face Mask, FFP3 MASK, FFP2 Mask, Dust Mask, coronavirus
Mask standards can be confusing: N95, KN95, FFP3, P2, or surgical mask? This quick run-down covers mask types, mask ratings, and their effectiveness at filtering particles.
First off, let's start with mask types (or certification types). In general, there are 3 (or sometimes 4) types of commonly used, disposable masks. They are single-use face masks, surgical masks, and respirators.
Experts are warning the public against wearing certain types of face masks with front valves.
They say the masks protect the people wearing them but do not stop virus droplets from escaping and infecting others.
The masks are designed for construction workers to use to keep out dust and other particles.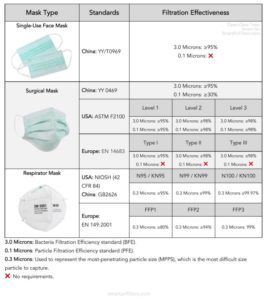 Video: Doctor Explains What You Need to Know About Wearing Masks for Covid-19 | Cause + Control
Showing 1–12 of 31 results